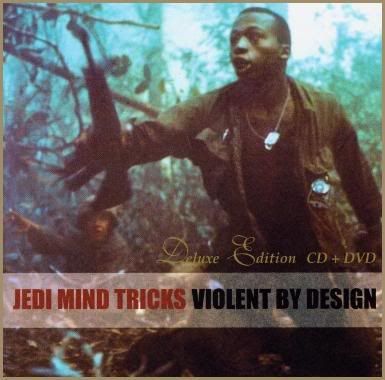 Released: October 3, 2000
Uploaded: November 19, 2007

Tracklist:

Intro
Retaliation
Contra
Speech Cobras
Breath Of God Interlude
Death March
Words From Mr. Len Part One
I Against I
Exertions Remix
The Prophecy Interlude
Heavenly Divine
Sacrifice
Permanant Midnight Interlude
The Deer Hunter
Blood Reign
Words From Mr. Len Part Two
Genghis Khan
Trinity
The Executioners Dream
Muerte
Heavenly Divine Remix
Army Of The Pharaohs: War Ensemble
Untitled
Retaliation Remix
Blood Runs Cold
File Size:
99 MB
DOWNLOAD:
Sharebee
INFO:
Wikipedia
INCLUDED:
Un

derground9 Overview:
This is the second album by underground hip hop group
Jedi Mind Tricks
, and is my second favorite underground album of all time.
The album is almost perfect, trough the album only a couple of tracks are weaker than the rest, but if judged separately even the weak ones are impressive.
As you should know, JMT is composed of rapper
Vinnie Paz
and the producer
Stoupe The Enemy Of Mankind
, for this album
Jus Allah
was included in the group, after the album was released he separated from the duo.
Now this record symbolizes Vinnie Paz's change in flow into a more rough, aggressive tone, which makes a perfect contrast with
Jus Allah
's softer voice.
The real star of this album is
Stoupe
, the production on this album is simply amazing, every song is a treat for the ears, violins and guitar strings, and this should simply explain why he's my favorite producer of all time, and this album has the best production work i ever heard through the years.
The beats are rich with classic samples and harmonious sounds, the beautiful work
Stoupe
has done on this record to my opinion will never be matched by any other producer, without such beats i doubt JMT would have gained the respect it currently has.
Tracks like "Blood Runs Cold", "The Deer Hunter", "Sacrifice" can be considered some of the greatest songs in the history of hip hop and music in general, it's beautiful albums like this that keep hip hop eternal.
Flow & Lyrics:
9
/10
Beats:
10
/10

Here
you can read the full review on
All Music
.
Here
you can read the full review on
AllHipHop
.
Here
you can read the full review on
RapReviews
.
Download and enjoy.
You can listen to some of this album's songs in the Music Player at the bottom of the page.